The Specialist
The "unique selling proposition" of Before 'n' After Rustproofing has always been that I specialize only in rustproofing. When I started the business I realized that there was a gap in the market because no-one else (not even "Classic Car Restorers") wanted to do this dirty, back breaking job and so here was a business I could start with virtually no capital and build a reputation. I knew that the unique rustproofing product called "Waxoyl" was just about the only product that would actually stop rust, so in 1987 I started a unique "niche business" - rustproofing "Classic Cars". Through thick and thin I have stuck to rustproofing and there are now many hundreds of Classic Cars that have been preserved from the ravages of "the rustworms".
In 1991 I borrowed £15.000 and took time off to develop a new "colour matched wheelarch service". In order to develop the materials for this I had to do a huge amount of research into rustproofing materials, coatings and the coatings industry in general. "Colour matched wheelarches" as an optional extra has proved extremely popular with Jaguar owners. Interestingly during my months of doing research in the "Science Library" in London and phoning up various research establishments and manufacturers, I was able to confirm just how far ahead of the field Waxoyl is (and still is).
In 2001 after 2 years in premises in Newbury I now had all the equipment in place and I was able to finally make happen a project which I had been working on since my research into coatings back in 1991. This new project was the "KLEENtect" treatment for Land Rovers. I do not see this as a new departure but rather as a logical step forward, using my expertise in cleaning vehicles and applying coatings to take rustproofing a step further. KLEENtect was a revolutionary service in June 2001 when it was introduced. I believe that very soon all buyers of new Land Rovers will have their vehicles KLEENtect'ed as a matter of course straight after purchase.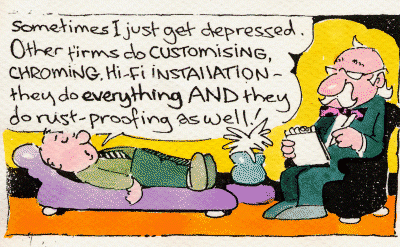 A Humble Approach

Click here to book in using web diary!