CLICK ON IMAGES TO ENLARGE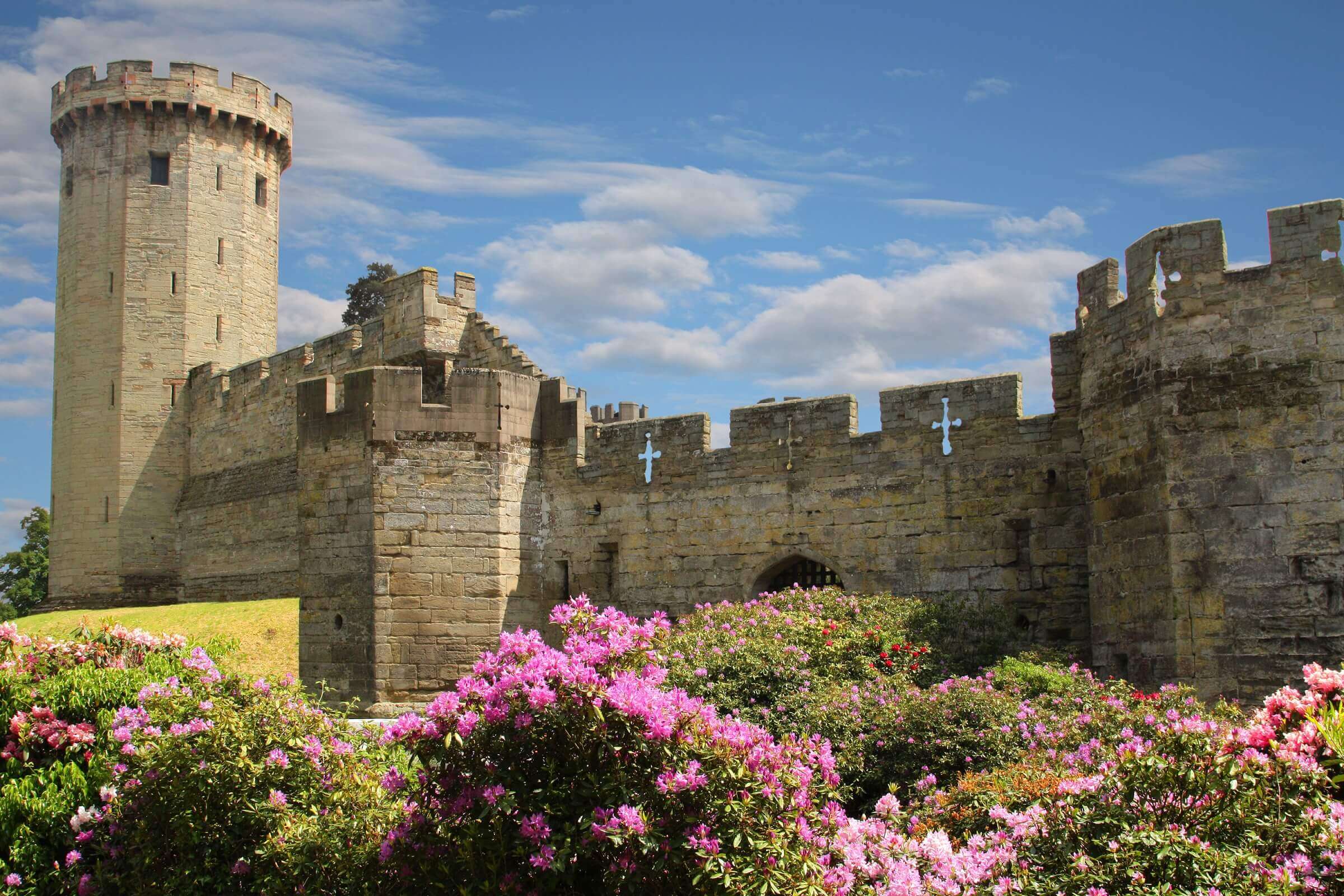 Warwick Castle – View of outer walls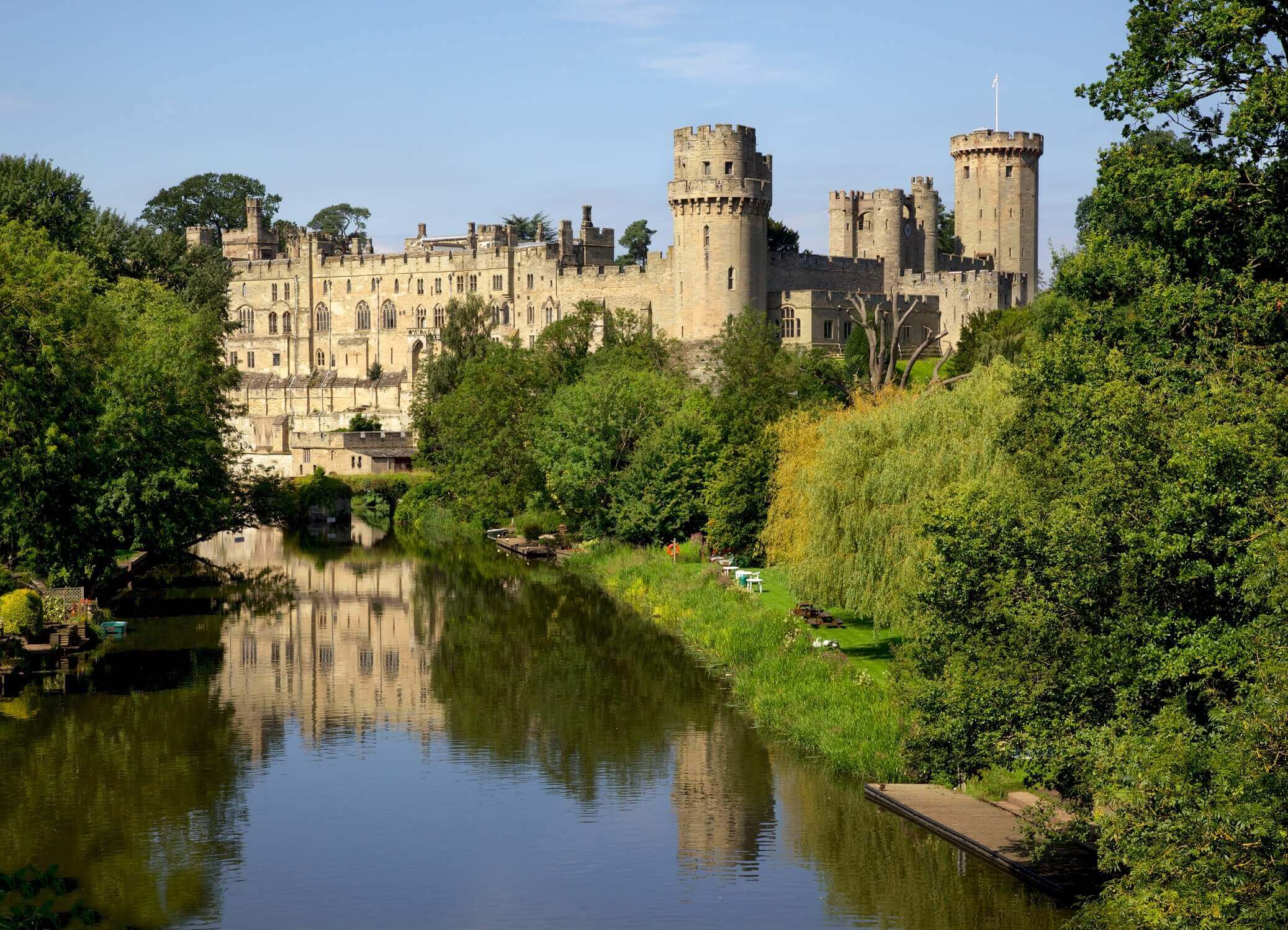 Warwick Castle seen from the river Avon
Warwick Castle seen from inside grounds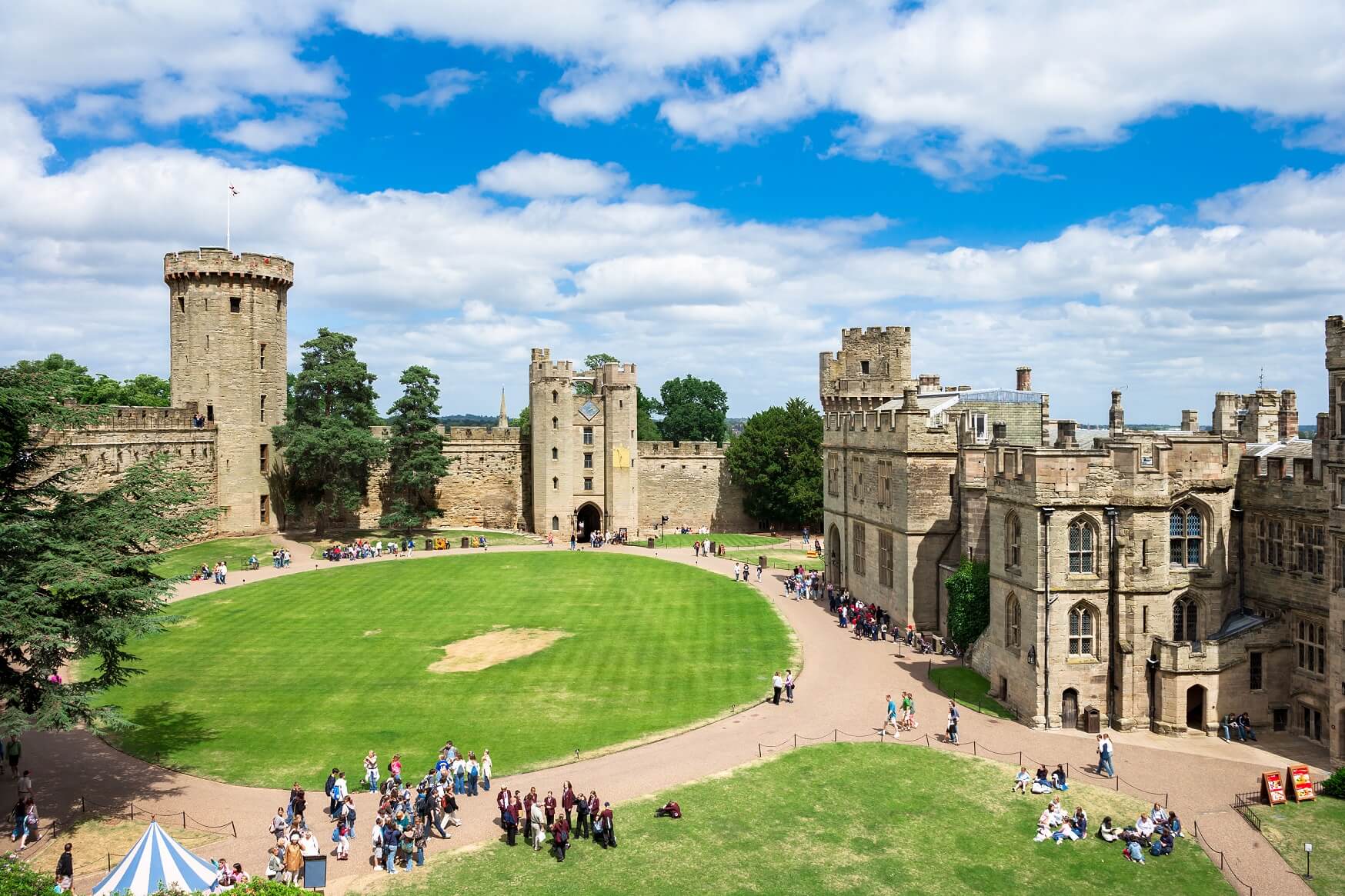 View of medieval castle tower and gatehouse from within the grounds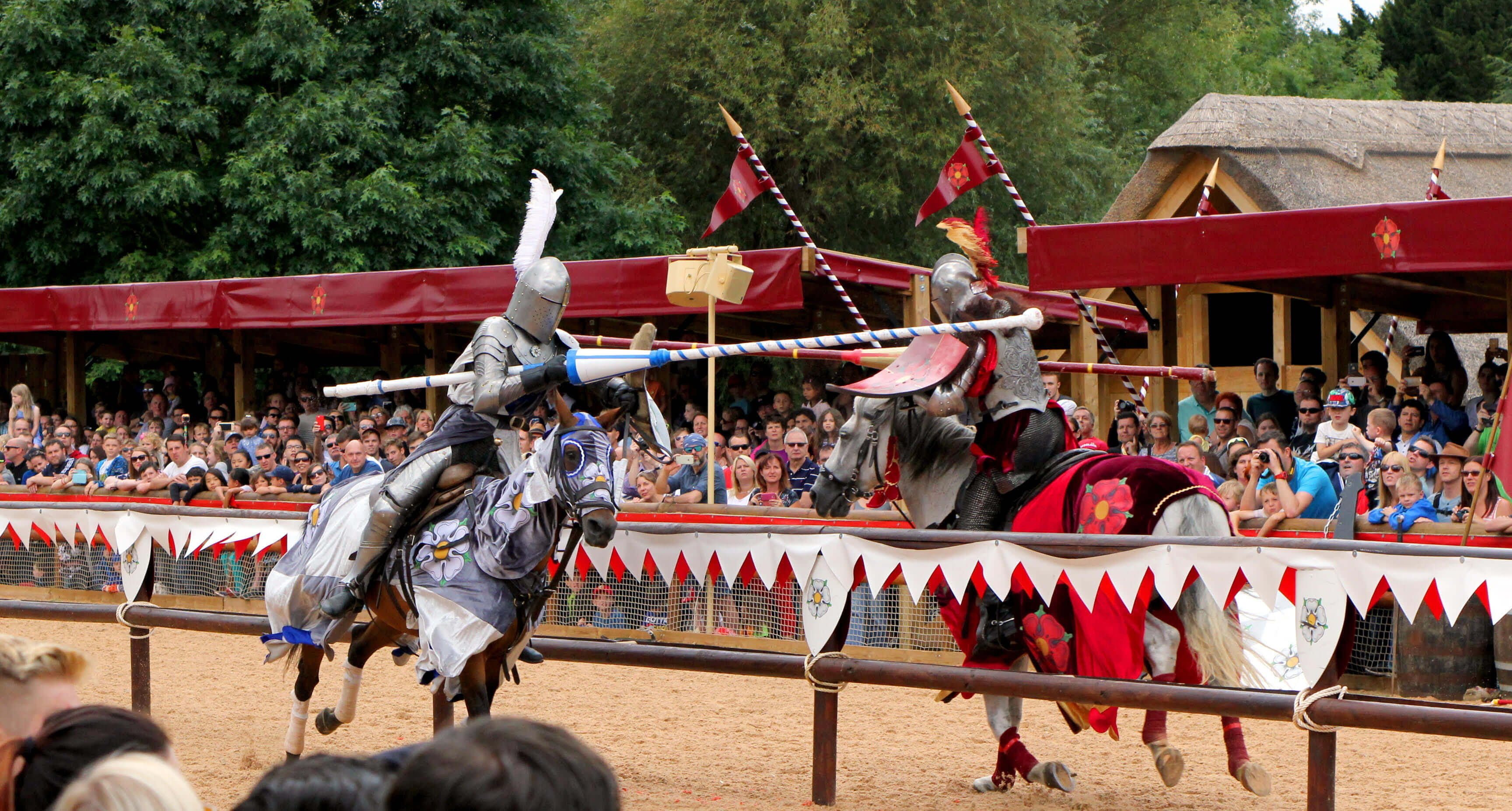 Jousting – every day in Spring and Summer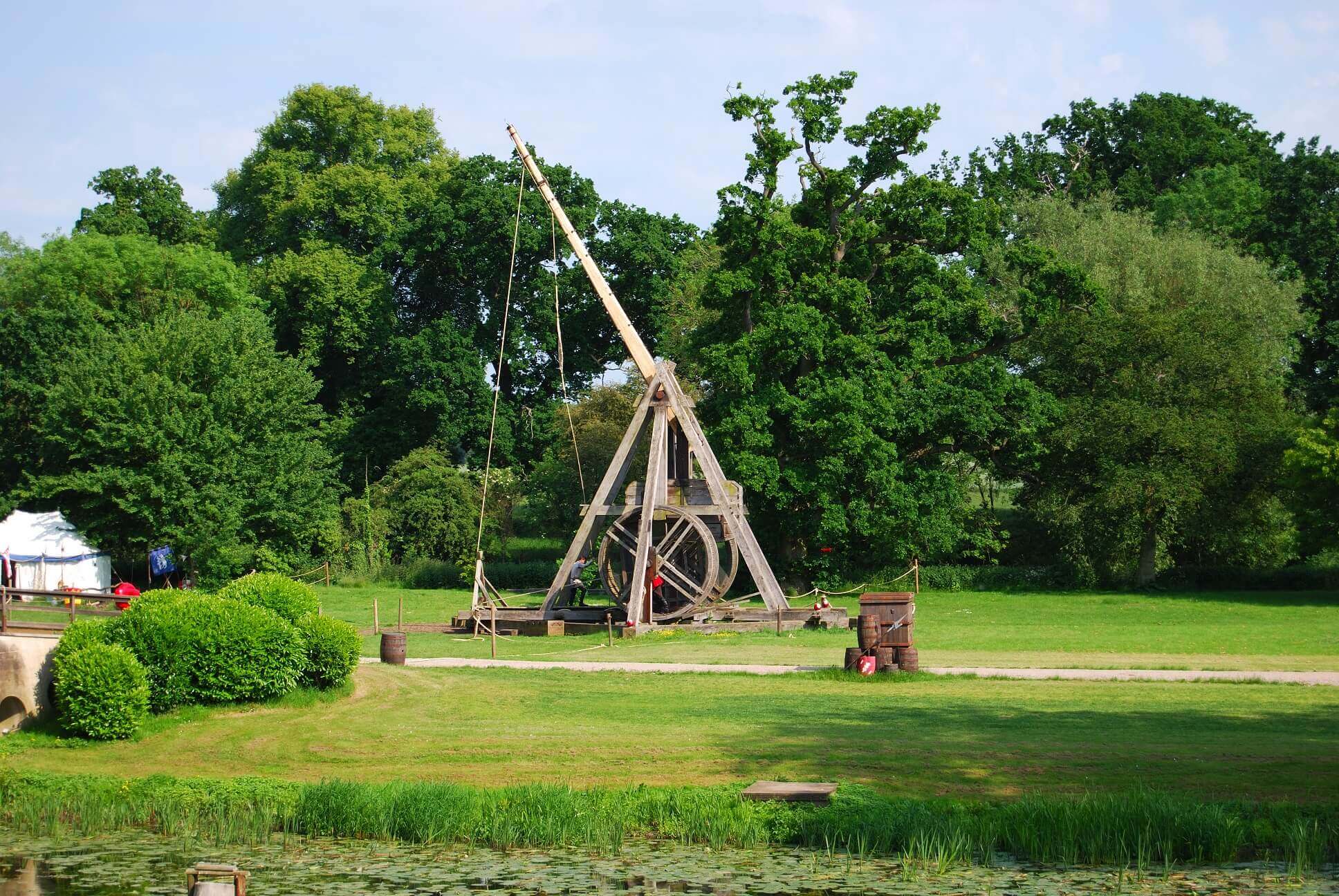 Trebuchet – medieval siege catapult 18 metres tall!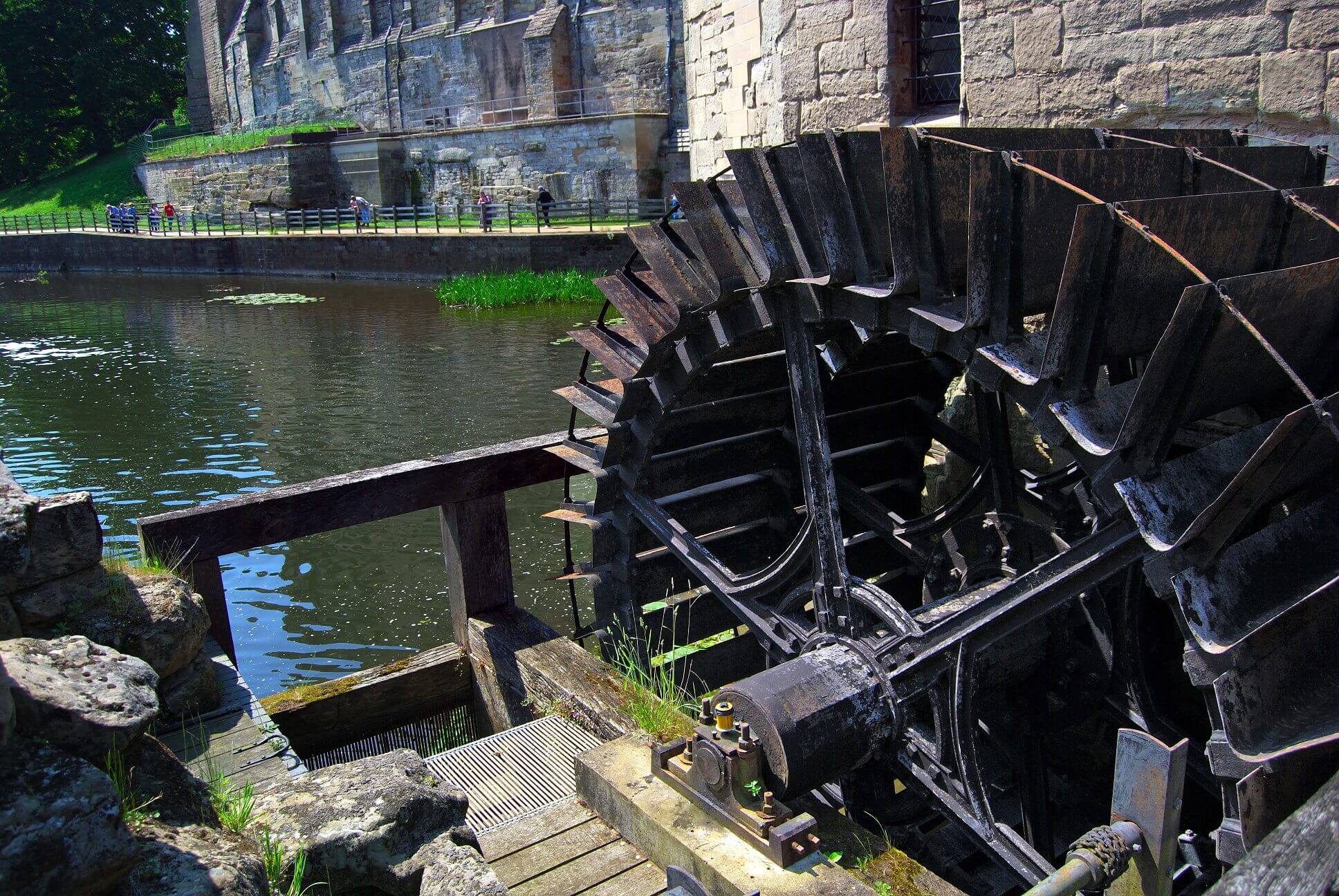 Castle Mill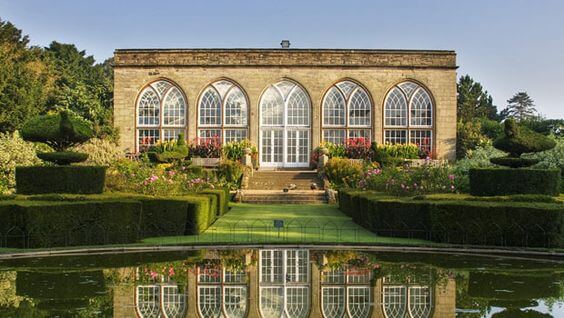 Castle Conservatory
Warwick Castle
back to attractions overview page
Famous Medieval Castle and Stately Home in Warwick
Founded in 1068 as a Mott and Bailey by William the Conqueror
Escaped damage in the English Civil War (unlike nearby Kenilworth Castle)
Interior refurbished in Victorian era
Situated on a cliff overlooking the River Avon
60 acres of grounds landscaped by Capability Brown
Victorian Rose Garden (best visited in late June and July)
Peacock garden
Conservatory
Formal gardens
Jousting, Birds of Prey display, Archery, Trebuchet on "River Island" in front of the castle
Water powered mill
Various kinds of historical guided tours available
Lots of "tableaux" with Tussaud wax figures in costume
Castle Dungeon show. 50 minutes with live actors (additional price)
Admission: £19 in season. £13 between 2nd November - 31st March
Stay overnight in "Knight's Village": "Medieval Glamping" in the grounds
Open from 10am to 4pm on week days and 10am to 5pm on week ends.
The town of Warwick should be visited separately – the castle is a full day out.)
Chris' reviewafter talking to dozens of customers who have visited: Very entertaining, full day out. A little bit expensive and you have to pay extra for separate attractions like the dungeon experience for example. All my customers thoroughly enjoyed their day out.
Tickets are 30% cheaper if booked in advance online:

Warwick Castle seen from the river Avon
Hundreds of amateur photos taken by visitors to the castle uploaded to Trip Advisor Click here:
google maps Scroll down for 3,000 reviews (!) and 175 photos.
Around 95% of people give 5 stars. Those who are not impressed complain that it's expensive, the car park is £6, and there is too much of a theme park influence. Don't let the moaners influence you though, it's a great day out. Lots of fun.
Until recently, the Castle was owned by Tussaud's so there are lots of life-like wax figures in various costumes dotted around the place in historical "tableaux"
Is it real contact jousting? Check out 17.17, 22.00, 28.15 and 28.21 (Tip: click the gear symbol at bottom right, then speed: 0.25.) The joust is usually followed by a dismount and sword fight which looks very dangerous!
Stay at Knights Vilage in grounds of Castle – Glamping style medieval tents or woodland lodges. Open from 30th June to 9th September. Woodland lodges, sleeps up to 7, £272, Medieval glamping tent £258. Includes castle tickets and breakfast.
Car Park prices: There are council run car parks nearby but they charge £4.50 for a day so you might as well bite the bullet and pay the £6 for the Castle car park.
Trebuchet factoids
18 metres (59ft) tall, weights 22 tonnes. Placed on River Island in front of the river side of the castle. Takes 8 men half an hour to load. 4 men run in 4 metre (13ft) treadmills on each side to lift the counterweight which weigh 6 tonnes. Can hurl projectiles weighing up to 150 kilos, up to 300 metres and as high as 25 metres.
The traction trebuchet (launched by men pulling ropes in unison) appeared in China in the 4th century. It spread westwards and was used by the Byzantines in the 6th century. The counterweight (Warwick Castle) trebuchet, first made its appearance in both Christian and Muslim lands around the Mediterranean in the 12th century. The projectile was typically a large stone but other options included incendiaries, debris or even corpses.
Warwick Castle factoids
From wikipedia: ...Over its 950 years of history Warwick Castle has been owned by 36 different individuals, plus four periods as crown property under seven different monarchs. It was the family seat of three separate creations of the Earls of Warwick, and has been a family home for members of the Beaumont, Beauchamp, Neville, Plantagenet, Dudley and Greville families. The first creation of the Earldom specifically included the right of inheritance through the female line, so the castle three times had a woman (or girl) as the owner. Eleven of the owners were under 20 when they inherited, including a girl aged two and a boy aged three. At least three owners died in battle, two were executed and one murdered. Every century except the 21st has seen major building work or adaptations at the castle...."

View from Mill Garden
(back to top)
back to attractions overview page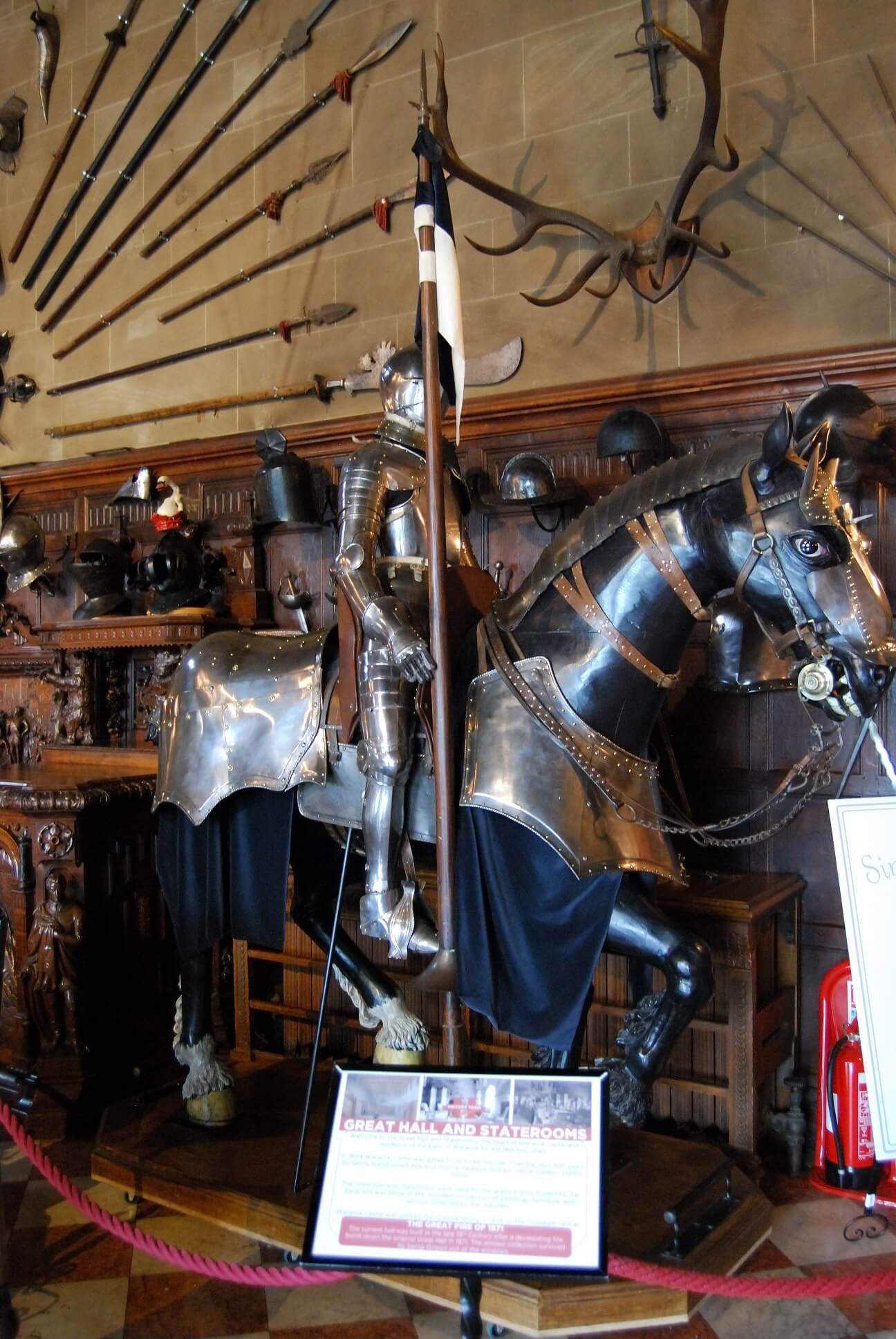 Display of Armour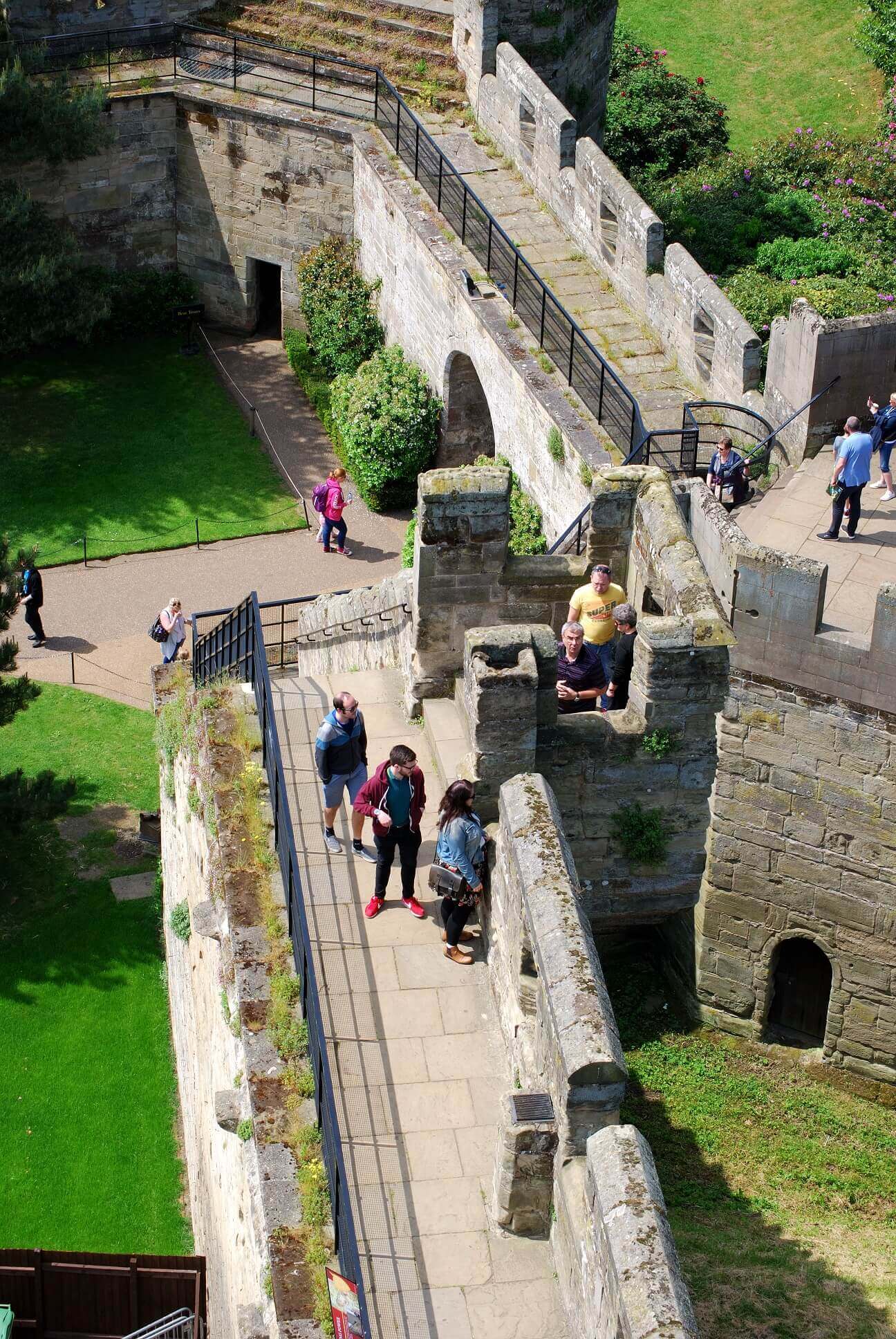 Castle Walls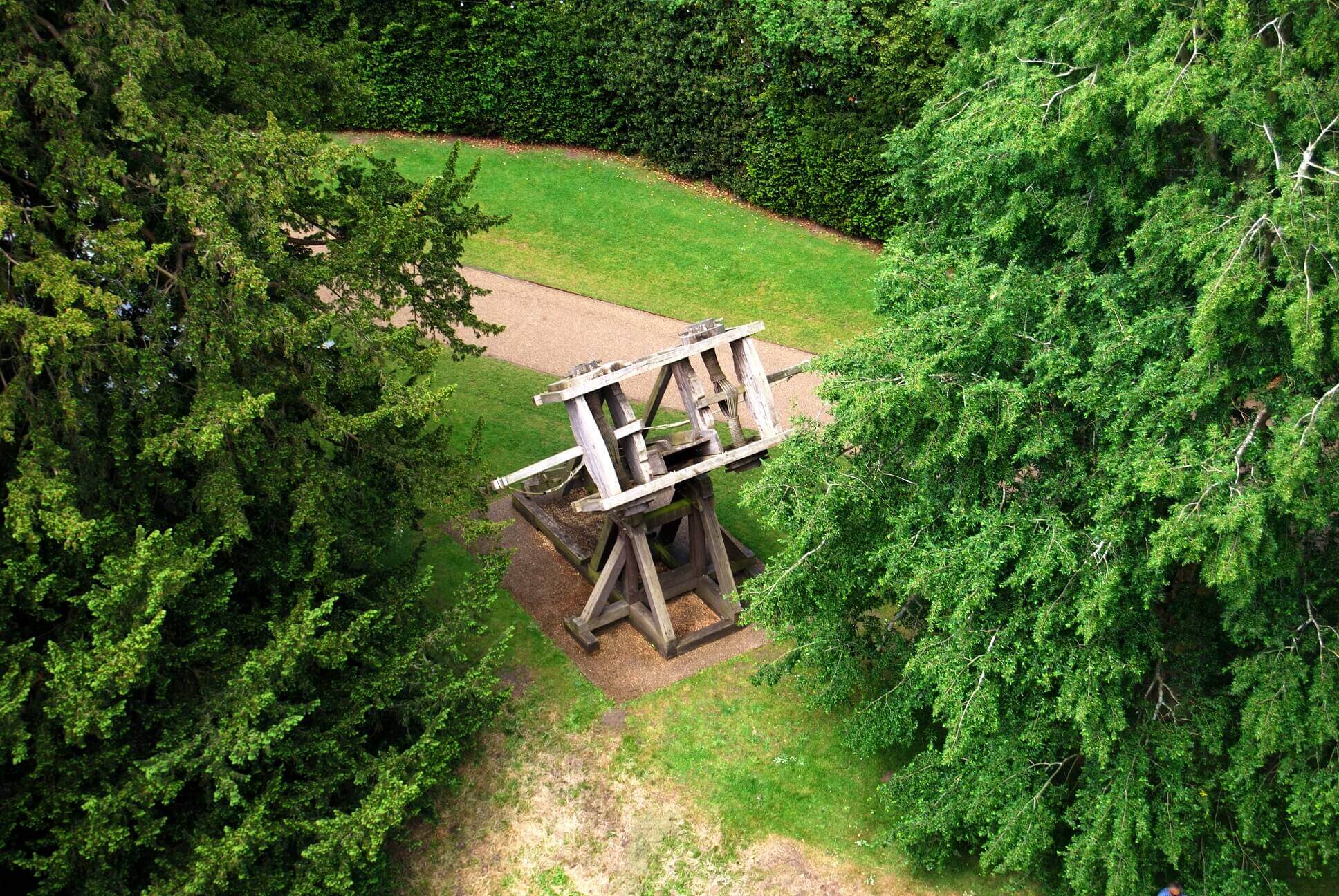 The trebuchet (huge siege catapult) on River Island, seen from the castle walls