What the Press Says:
LAND ROVER ENTHUSIAST - SEPT '01: "Chris doesn't muck about"
PRACTICAL CLASSICS - APRIL '89: "We'd highly recommend Chris's services"
JAGUAR WORLD - SEPT '92. "In depth knowledge of rustproofing" We were impressed with the thoroughness of the operation" "we believe it is madness to use an older car regularly without rust protection"
CAR MECHANICS - DEC '93 "Chris uses a very high pressure water jet & seeks out every nook and cranny" "Highly efficient service"
JAGUAR WORLD - MAY '95 "So penetrative is the Steelguard that it can be seen escaping either side of a spot weld. As a demonstration Chris sprayed a little on a wet outer panel. You should see the water run" "Wheel arches are transformed from looking tired to a pleasing matt version of the outer panels. The effect is truly impressive" "Chris earns each and every one of his pennies."
(These testimonials are for Before 'n' After Rustproofing in Rugby – do not confuse them with would be competitors who do not have such testimonials!)
David Bowdler says: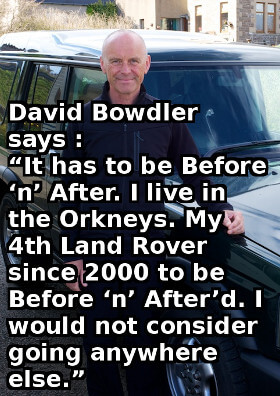 "...Why would I go anywhere else ? I have seen other firm's adverts but this Discovery had been waxoyled locally and I was not impressed . This is the fourth Land Rover I have had Before 'n' After'd so I know the quality of a Before 'n' After job. I love walking and running and it was a glorious day when I had it done on the 1st of May so I walked along the canal to the pub at Hilmorton Locks and back – (after breakfast at Malt Kiln Farm Shop) – a really lovely day out!"
David has now been living in Stromness in the Orkney Islands for the past 6 years in what he describes as a " very salty environment – especially in Winter - with 18m waves recorded to the west of the island. " Previous to that he lived on the Isle of Skye in a house on a small peninsula surrounded by the sea, which he describes as "the most salty environment imaginable!"
The first vehicle to be done was a Defender 90 Hard Top which was Before 'n' After'd from new in 2000. David then lived in Lymington in the New Forest. This was part exchanged in 2002 for a new Discovery which was immediately Before 'n' After'd. This was sold in 2004. The third vehicle to be done was a Truckcab Defender '97. It had 98.000 miles on the clock when purchased. It had lived on a farm in Scotland and was very rusty. This was sold to a dealer in 2007. The current and latest vehicle to be done is a 2003 Discovery 2 TD5 Commercial which has 78,000 miles on the clock.