CLICK ON IMAGES TO ENLARGE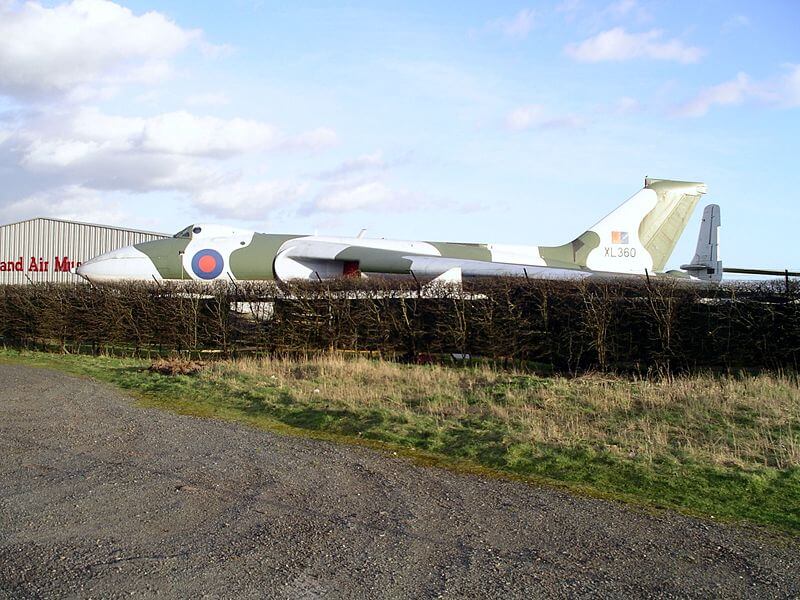 Avro Vulcan B.2
Bolton Paul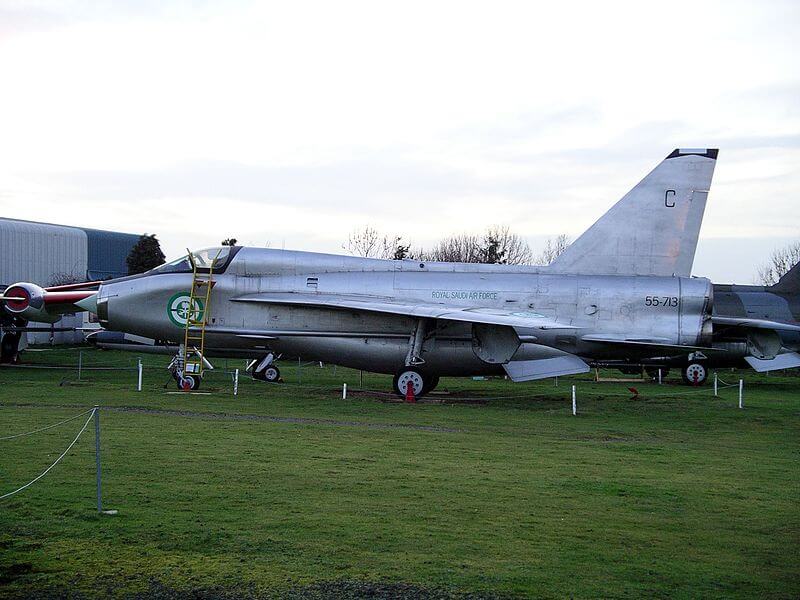 English Electric Lightning
Midlands Aircraft Museum at Baginton CV3 4FR
back to attractions overview page
59 different aircraft on display in hangar and outside
Includes Vulcan bomber, Sea Harrier,  MiG-21, Argosy freighter
"Open cockpits" on good weather days – (with steps)
You can go in the cockpit of the Vulcan – (just ask in shop)
The volunteers are all extremely friendly, helpful and informative
Fantastic selection of model aircraft kits on sale in shop (see my video)
Every type of aircraft used in second world war (hundreds!) can be seen as a model in  the display cases (see my video)
10 miles from premises  CV3 4FR
The Sir Frank Whittle Jet Heritage Centre (original archive film and documentaries - runs on loop in audio visual viewing room)
Free car parking
Argosy Tea Room
Why not visit Lunt Roman Fort at the same time – less than a mile away.
Phone 02476 301033 -  Open all year round
April to October  10am to 5pm     November to March 10.30 to 4.30 pm
My review:  Customers who are interested in aircraft really love this place.  I always tell them to make sure to go up in the cockpit of the Vulcan and if no-one is there to take them up, to go and ask in the shop.  Time and again they have told me that not only did a volunteer take them into the cockpit, the volunteer stayed with them and gave them a one to one fascinating talk on the aircraft. Make sure you wrap up well in cold weather because the exhibits are either in an open hangar or in a field.
Air Museum Part 1 8 minute videos shot by myself
A review from among 414 on Trip Advisor
"..The staff were so obliging and doing some great work restoring the aeroplanes. The highlight was being inside the cockpits of the Victor and Vulcan. The Victor had been restored by one of the enthusiasts from being a wreck to having instrumentation lights working , which brought the cockpit to life. A great experience. It's the only museum aircraft cockpit I've seen that does this..."
360 Amateur photos on Trip Advisor


Only 3 miles from Brandon & only two miles from Garden Organic at Ryton and half way from premises to Leamington.
Situated at Coventry Airport.  In winter and cold days in spring and summer take warm clothing because most of the aircraft are outside in a field. Some exhibits are housed in a hangar but the door to the hangar is open.  The airport is on what was RAF Baginton. Lots of local associations are represented at the museum. Frank Whitttle, inventor of the jet engine was of course a local Coventry boy.  During the second world war a Polish squadron of fighters flew from Baginton. (Many Polish associations at Leamington Spa also.)  There was an aircraft factory at the airport from 1936 and may other aircraft factories in Coventry.  I counted 60 planes in total on the Museum's superb website.  There are many aircraft produced in Coventry represented and a big section devoted to Frank Whittle and the history of the jet engine.  There is a well stocked shop selling a huge range of kits, prints etc. (see my video) and there is a cafe.  Restoration is carried out on the site. The star attraction is the Vulcan bomber which looms over the entrance.  Make sure you ask to go up in the cockpit. The museum is staffed by volunteers who are all extremely friendly and helpful as well as knowledgeable.  If you want to go in the cockpit of any of the planes – just ask – they are always happy to accommodate you.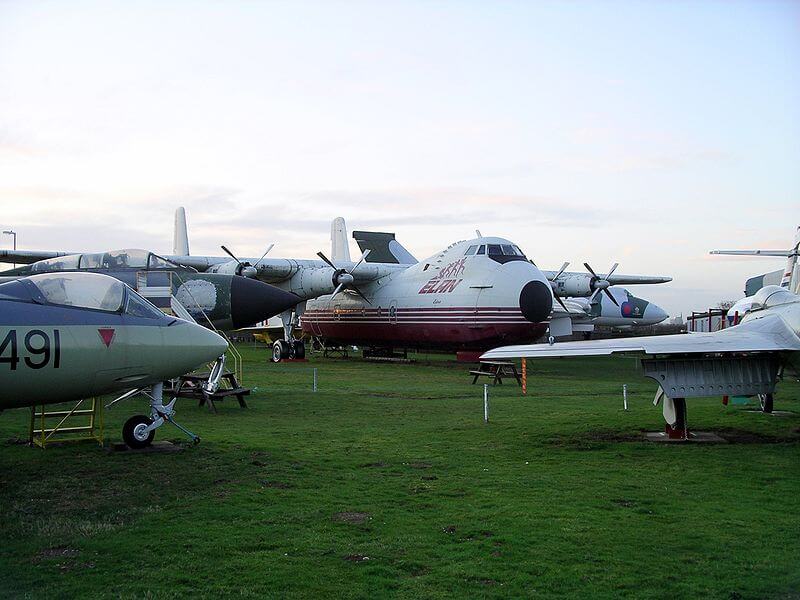 Armstrong Whitworth Argosy
Armstrong Whitworth Sea Hawk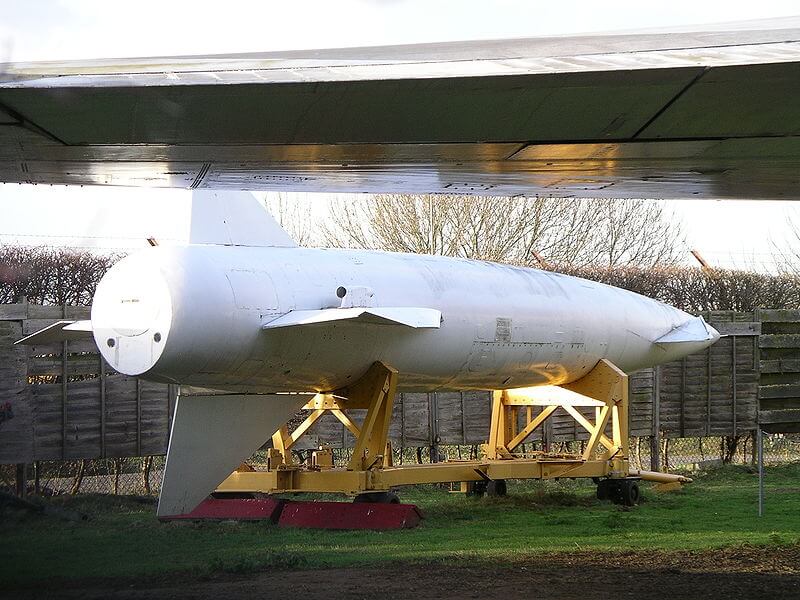 Avro Blue Steel nuclear missile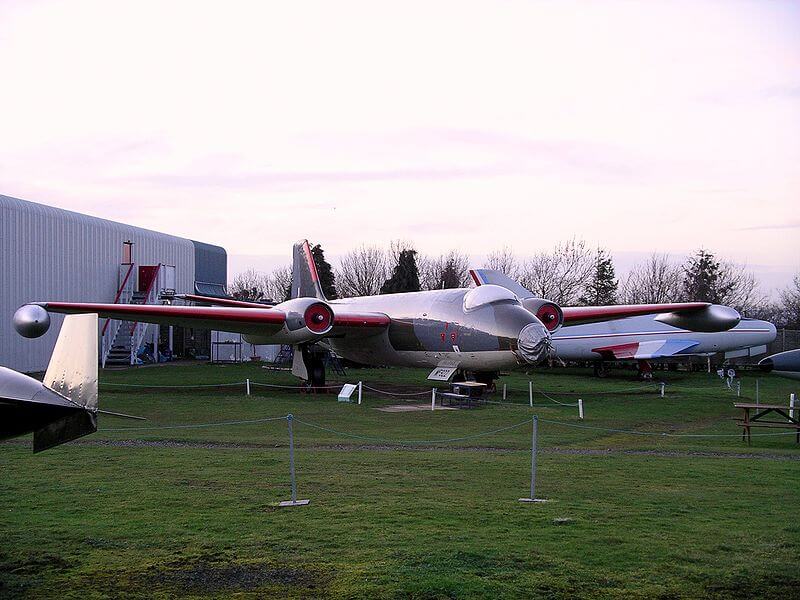 English Electric Canberra