CR coating and Before 'n' After improved waxoyl Land Rover Defender rustproofing
Chris Parkinson (aka Mr. Before 'n' After) has been in this game for over 35 years. Put "Before 'n' After'd" in your ad and you will sell super fast and get top price. This applies particularly to Defenders. Click here to see 2 Defender underbodies 5 years later, lookng as good as the day they were done! Here is how we blast off the rust to achieve that.
click here to see why rust converters DON'T WORK and why Before 'n' After is a RUST CONVERTER FREE ZONE. - click here to see why we don't need to faff around for 3 days "degreasing" your vehicle in order to apply rust converter. Click here to find your vehicle. We only need your vehicle for a day. Borrow our courtesy car and have a great day out visiting the local attractions.
Before 'n' After was started in 1987 by Chris Parkinson. Since that time many thousands of Land Rover Defenders , 4 x 4's and Motor Caravans and Jaguars have been rustproofed with waxoyl and from 2015 with CR coating with 10 year guarantee. To see the full story, click on our history

Book in here Note: If you have some questions please email. I have hearing difficulties so am unable to manage phone converstations. Emails are often answered within the hour. Click here to see 10 reasons why you should only consider Before 'n' After for your improved Land Rover waxoyl treatment and CR coating.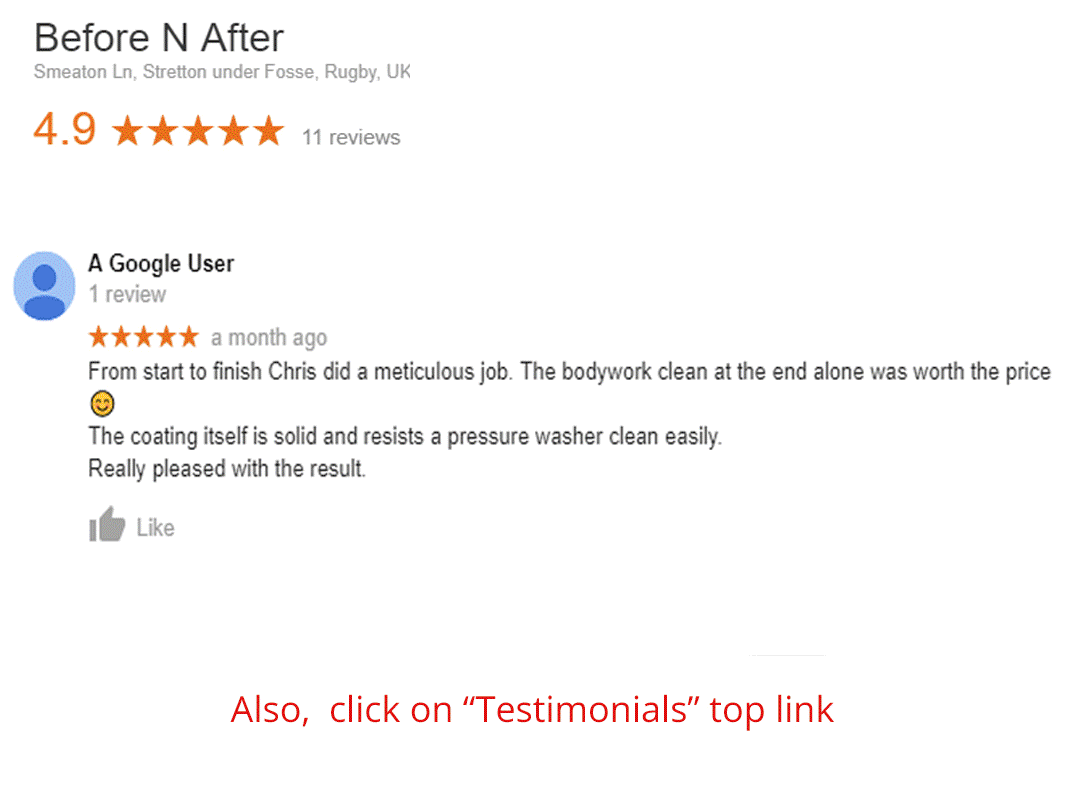 No reason to go local and be disappointed. Remember: Before 'n' After is the only genuine rustproofing specialist. Only Before 'n' After gives a credible guarantee. (Perforation of panels is not covered) 6,000 given since 2002! You could stay in a Premier Inn for as little as £15 or even free! See how here: We lend you a courtesy car and you can have a great time visiting these attractions.
Timeline:
In 2002 Before 'n' After started to give 5 year guarantees: "If you see any rust coming through the coating, bring it back and have it retreated free of charge".
Between 2002 and 2009 around 150 Defenders were given a non-stick, paint coating with 10 year guarantee we called KLEENtect. Not a single guarantee claim! We can't do KLEENtect anymore because the materials are no longer available. But the CR (heavy duty, abrasion resistant rustproofing wax) coating was introduced in 2015 to replace it, also with a 10 year guarantee. At a third the price of the KLEENtect and unlike the KLEENtect it can be applied to older vehicles as well. Book in here
From 2008 we "improved" waxoyl by adding a special additive at 2% to make the waxoyl impact resistant without any resultant loss in anti-corrosive performance. From experience we have found that this also seems to prevent the waxoyl from oxidising and thinning over time. (Note: Chris Parkinson has a proper knowledge of chemical formulations for rustproofing materials gained through a 2 month full time research stint at the British Science Library in 1997 and we have a successful 2 decades long track record of high performance with our own coatings. See "our history" We do not approve of "special concoctions" of waxoyl mixed with old engine oil and diesel and the like.)
Why go local and be disappointed? Two Really great reasons to travel for your CR coating or Before 'n' After improved Waxoyl treatment for your Land Rover or other vehicles
Local Land Rover waxoyl treatment?
It might seem so convenient to go local for your Land Rover or other vehicle waxoyl or dinitrol treatment? At your local garage maybe? Or at one of the gazillion sites across the UK advertised by a so called "rustproofing specialist" who has been claiming "10 years experience" when he currently has only 5 and has been advertising with the phony claim since he started. This so called "rustproofing specialist" lists another 16 specialities on his other website!
There is only one Before 'n' After. It's in Rugby.
But don't be fooled! There is only one Before 'n' After rustproofing, run by Chris Parkinson specializing only in vehicle rustproofing since 1987.(See our history) Chris does not make false claims. At the time of writing (April 2019) Chris has 12 x 5 star google reviews. The imposter has none. See also, Chris's testimonials here Again, the imposter has none. Only Before 'n' After has a Customer Record Page (CRP) for every customer. See here:
2 really great reasons to travel
You may have to travel a little distance to get to us but we have done everything possible to make the visit worthwhile. Here are 2 reasons to make the journey (apart from Chris at Before 'n' After being the only real specialist and the only one to offer a credible guarantee of course):
1. You could stay in a Premier Inn for as little as £15 or even free!
See our subsidized deal on hotels and our local Premier Inn price looker upper app here .
2. Borrow the courtesy car and visit one of the really great local attractions. Check out our testimonials where customers often talk about what they did on their day out. We give you a courtesy car so you can have a lovely day out while we do your vehicle. First stop of course must always be Malt Kiln Farm shop, 3 minutes away for the best cooked breakfast you ever ate.
To see the distance and time needed to get to us, just click on the town or city (live links) nearest to you from the list below. Or just type in your post code here
Levels of service, availabilty, prices and interactive book in here
Aberdeen
Bath
Blackpool
Bournemouth
Brighton
Bristol
Cambridge
Canterbury
Carlisle
Colchester
Dumfries
Dundee
Durham
Exeter
Glasgow
Hull
Inverness
Ipswich
Leeds
Leicester
Liverpool
London
Middlesborough
Newcastle
Norwich
Nottingham
Oxford
Perth
Peterborough
Plymouth
Reading
Southampton
Southend
Sunderland
Swansea
Swindon
Torquay
York
Borrow our courtesy car and have a great day out
See our attractions introductions page which links to around 20 individual pages for local attractions. Click here
Coming from over 100 miles?
See our new subsidised deals for local Premier Inn hotels and use our new price looker upper app. Click here